About Our Wine Bar,

Tapas Restaurant, 

Bottle            and Gift
Shop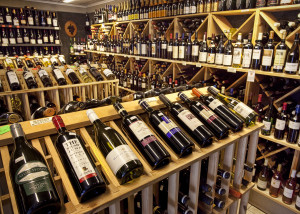 Located in the heart of Old Englewood Village, Vino Loco Gourmet offers a Wine Bar, Tapas Restaurant and Retail Wine & Cheese Shop. Over 350 wine varieties are stocked from around the world. Each wine is carefully selected by our wine consultants to provide you with terrific wines that won't pinch your wallet. Many are old favorites and others are new friends you'll definitely want to get to know.
     We're also happy to order your favorite wine, suggest a great wine for a quiet dinner at home or one for that very special occasion. Our Wine Cooler offers up a lovely selection of chilled wines ready for your immediate enjoyment.
    In addition to our delicious artisan cheeses, you'll want to try our "in house" hummus, hand made charcuterie, organic chocolates, marconna almonds, olives, olive oil and much more. Be sure to take some home to enjoy!
    We also carry a great selection of premium cigars.
    Relax in our upscale, yet casual restaurant with it's new climate controlled patio. Our award winning menu of Gourmet Tapas prepared by Chef Katrina changes weekly! Over 30 wines by the glass pair with authentic Spanish tapas made to order from the freshest natural and organic ingredients.
Hours
JANUARY
                        Tues-Thurs   11-9
                             Fri-Sat     11-10
                  Sunday Brunch  11-4
                              CLOSED MONDAY
Forks & Corks South-Saturday the 27th from 3-5:30
Tickets $25 at the door.  Meet the Winemakers and munch on hors d'oeuvres.  No reservation necessary. 
Tickets for Feb 24th Wine Walk on sale now!! 
Voted Best Place for Wine in Englewood!!
                   We look forward to seeing you!
                         420 West Dearborn Street
                            Englewood, FL 34223
                                (941) 473-8466

GIFT BASKETS AND CERTIFICATES!
THE PERFECT GIFT FOR YOUR FAVORITE GOURMET. PICK OUT YOUR GOODIES AND BUILD A BASKET.