Wine Events
October Wine & Food Events
New Folks, New Wines

! Open House, Friday the 9th Stop in from 6-8 and visit with Lori and Paul.  
Paul is our new Sommelier, formerly of the Ritz Carlton in Miami and Lori is our newest server.  Have a chat and enjoy complimentary hors d'oeuvres.  And be sure to try the two new wines from Spain and Italy on our by-the-glass list.  
Perucchi Night

!
Friday, October 23rd, 6-8
It's from Barcelona and it's one of the best Vermouths we've ever tasted.
 Try it straight over ice or in a chilled Casis.
 Buy a Perucchi drink and you may win a bottle of this great Vermouth, or even the 5 Liter Perucchi Reserva!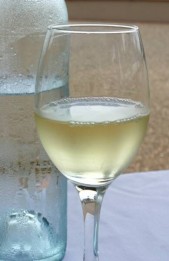 "Wine is the most civilized thing in the world."
Ernest Hemingway.
Join our email list!
Easy form on our "Directions" Page
VINO LOCO Signature Wine Service
Private Tastings, Parties & Wine Dinners.
Reserve Vino Loco for your next event.
We also work off premise with you to provide the best wines and menus for your special event.
Give us a call. We're happy to consult with you. 941.473.VINO (8466)
WE OFFER A WIDE SELECTION OF CUSTOM WINE & FOOD BASKETS AS WELL AS GIFT CERTIFICATES!
November Italian Wine Dinner


Tuesday, November 17th starting at 6 pm
Join Chrissie and Tony Orlando as they present the Wines of Candoni.  Katrina is working on a four course gourmet feast to compliment these superb wines.  
Limited seating and reservations required.  $75 per person.
Contact Joyce or Charli for your spot!