Wine Events
May and June  Events 
Drop In Wine Tasting
Saturday, June 11  5-7


Mike joins us with four great new wines from Argentina.  Be sure to stop in for a sip. 
An Evening with
 Telmo!
Thursday, June 16  7pm
Wine & Tapas with Telmo Rodriguez, one of Spain's most prominent Winemakers!  The "Driving Winemaker" presents a selection of his finest creations from Toro, Alicante Rueda, and Valdeorras.  Tapas by Chef Katrina.  Reservations required.  $25 
Spanish Wine Dinner!
Tuesday, May 24th  6 'til
 Robert & Katrina host this Spring Dinner event, including four courses and five wines.  Call for your spot $75 per person. Reservations a must.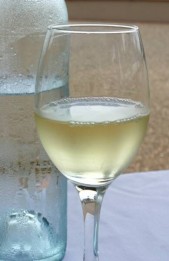 "Wine is the most civilized thing in the world."
Ernest Hemingway.
Join our email list!
Easy form on our "Directions" Page
VINO LOCO Signature Wine Service
Private Tastings, Parties & Wine Dinners.
Reserve Vino Loco for your next event.
We also work off premise with you to provide the best wines and menus for your special event.
Give us a call. We're happy to consult with you. 941.473.VINO (8466)
WE OFFER A WIDE SELECTION OF CUSTOM WINE & FOOD BASKETS AS WELL AS GIFT CERTIFICATES!
     

SPANISH WINE DINNER MENU
      Mont Marcal Rosado Cava with Serrano wrapped Manchego & Currant Reduction
           Principe de Viana Chadonnay with Marinated Pulpo Salad
                                Condado de Haza & 11 Pinos Bobal Grilled Pork Tenderloin, Spanish Rice and Sweet Pan Fried Peppers 
        Bodegas Albala PX with Spanish Chocolate and Fig Torta