Wine Events
May Wine & Food Events 
Chocolate & Wine

!  
Saturday, the 14th at 5


Taste the famous Milano "Chocolate Salami", sip wine and enjoy coffee from the folks at Joe Maxx!
Drop In Beer Tasting
Wednesday, May 18th 6-8
Four new Craft Italian Beers, exclusively at Vino Loco.  Awarded Italian Beer of the Year, you won't want to miss this event.  See you there.     Music by Tommy D
Spanish Wine Dinner!
Tuesday, May 24th  6 'til
 Robert & Katrina host this Spring Dinner event, including four courses and five wines.  Call for your spot and menu details!  $75  Reservations a must.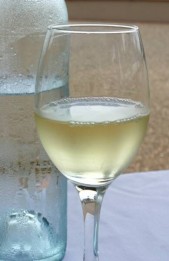 "Wine is the most civilized thing in the world."
Ernest Hemingway.
Join our email list!
Easy form on our "Directions" Page
VINO LOCO Signature Wine Service
Private Tastings, Parties & Wine Dinners.
Reserve Vino Loco for your next event.
We also work off premise with you to provide the best wines and menus for your special event.
Give us a call. We're happy to consult with you. 941.473.VINO (8466)
WE OFFER A WIDE SELECTION OF CUSTOM WINE & FOOD BASKETS AS WELL AS GIFT CERTIFICATES!
WINE MAKER WINEDOWN!


We're pleased and honored to have the Winemakers and Owners of Collefrisio Vineyards in Italy pay us a visit.  They'll be here on Tuesday, May 10th, from 6-8, sampling new vintages of their terrific wines.  You won't want to miss visiting with these folks, so feel free to stop in and have a sip or two!
e